Of course, it wouldn't be fair if CB spent ALL his time making new guitars. Sometimes guitars break (the horror!); sometimes they get so old that they need hip replacements, facelifts and bypass surgery (CB draws the line at liposuction); and sometimes they just need a little extra something to make them REALLY unique. That's when we can call on CB's talents at repair, restoration and modification.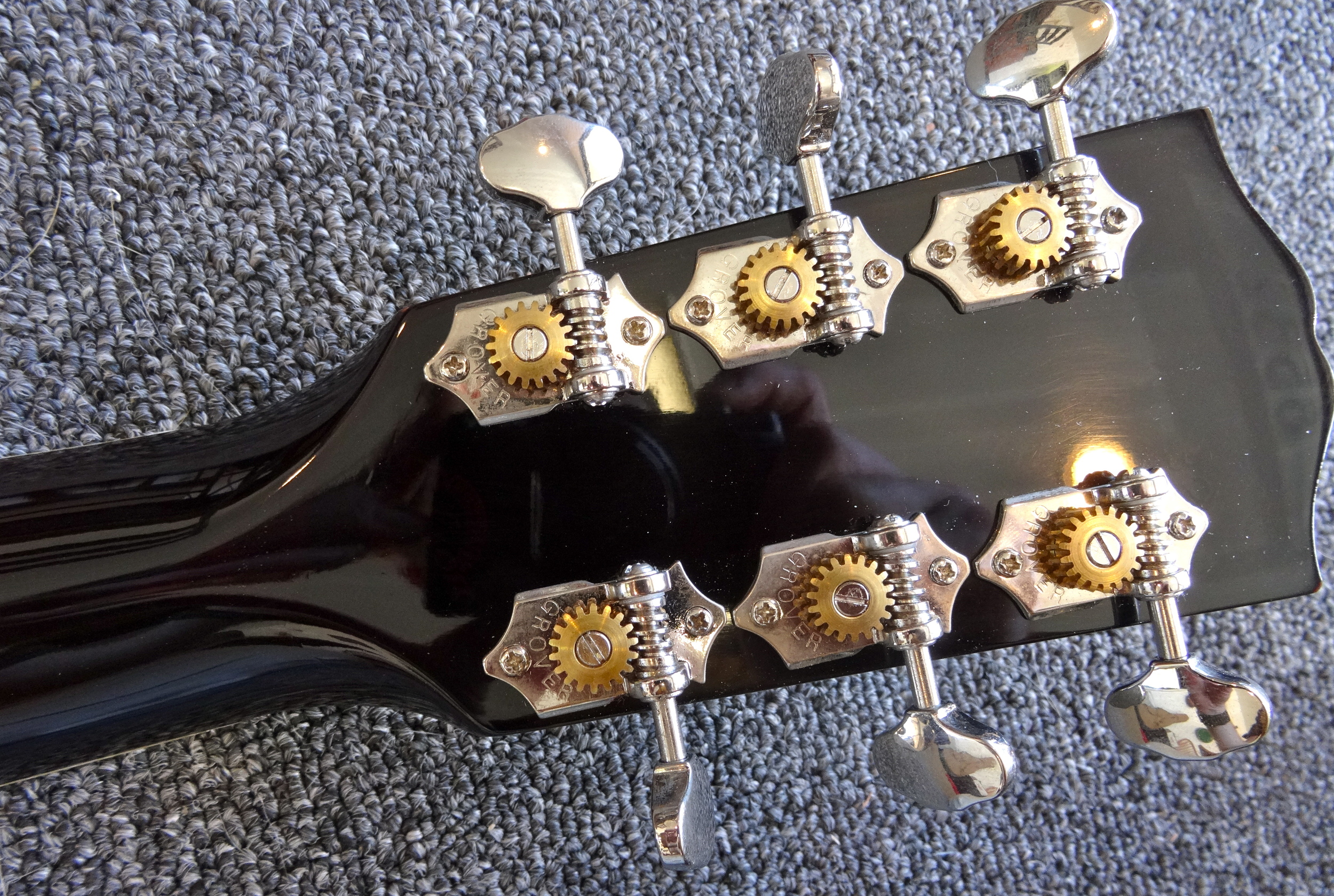 The heastock broke entirely off of this Gibson Keb Mo acoustic belonging to Los Lobos' Louie Perez.
But we can barely see a hairline depression where CB did the repair. Can you find it in this shot?
Here's another angle on the repair.
Can you see the indentation now?
There's a decal under there somewhere.
With Louie's permission, CB decided to lacquer over the Custom Shop decal rather than remove it. You can just make it out under the color.
The owner of this beauty wanted a piezo pickup added under the bridge.
This is just before routing the strip to hold the piezo element. 
Just after routing the small strip to hold the piezo pickup.
The piezo amplifies the acoustic vibe of the guitar and can be blended in to the magnetic pickups' output for a touch of added brightness & detail.
The control cavity rout had to get a little bigger to hold the extra control.
The piezo output can be blended in (or not) as desired. 
And then there were four...
...knobs, that is. The fourth one is a volume control for the piezo. It's also a push/pull switch to split the outputs: it's wired to a stereo jack, so the piezo output can be separated from the magnetic output when desired. Nifty!

These stacked knobs are independent Volume controls for each pickup
When combined with the push/push coil-tap switch in the Tone control, you can easily get a whole bunch of sweet tonal options.